Grant: West Virginia Commission on the Arts. 1996-97: Research and Photograph Wooden Spoons Worldwide, Smithsonian Institution, Department of Anthropology
Teaching Experiences:
Common Ground, Western Maryland College, Westminster, Maryland, 1997, 1999-2005
Cedar Lakes Craft Center, Ripley, West Virginia, 1997, 1999
Click here to read the 2002 online interview for Craft Report Magazine.
Click here to read the June 2006 cover story of Woodwork Magazine #99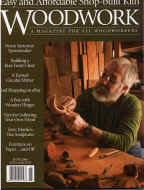 Click here to hear a Podcast about one of Normís spoons at the Smithsonian.
Click here to read the Summer 2008 article from The Hill (my college alumni magazine).