News
2019
November 2019 - "Equus" – Osage Orange - This sculpture is part of the 2019 West Virginia Juried Exhibition, November 17, 2019 to February 18, 2020 at the Culture Center, State Capitol Complex, Charleston, WV.
October 2019 - Thanks to generous donations by Norman and Nora Stevens and Ron Springwater 9 of my spoons and 5 of my letter openers are now in the permanent collection of the Huntington Museum of Art, Huntington, WV For years I had wanted some of my work to be part of a WV museum's collection. Thanks to Chris Hatten, Senior Curator, for his help with these donations. Images of the spoons along with descriptions have been added to the Collections section of this site.
Summer 2019 - The summer issue of West Virginia Artworks featured my work, "Homage", on the cover. Photo by Jim Osborn. Thanks to the WV Department of Arts, Culture, and History for sharing my work.

June 2019 – Zoneone Arts is an interesting Australian website. Their interviewer, Deborah Blakeley, sent questions based on what she learned about me online. I emailed my answers and chose some photos that went with the topics discussed. The Zoneone website has over 260 interviews with working artists and craftspeople. You not only get to see images of each person's work but in most cases there are images showing process and studio. The questions are probing and the answers are personal and revealing. Being an American carver I was surprised to be asked but after the process was over I feel honored to add my interview to this fine site. I hope you will check it out.
March 2019 - Occasional spoon carver and full time gallery owner Helen Harrison is curating a show in Key West, FL called With the Grain: Contemporary Approaches to Wood Art at the Sanger Gallery of the Studios of Key West. https://tskw.org/tom-majors-tribute-to-wood-with-the-grain . I have three pieces in the show spanning 12 years.
January 2019 - I was honored that Albert and Tina Lecoff included one spoon and a collaborative letter opener in the show of their collection presently at the List Gallery at Swarthmore College, Swarthmore, Pa. Entitled Branching Out – Changing Approaches to Art in Wood, more about the show can be found at
https://www.swarthmore.edu/list-gallery/2018-2019-schedule
2018
2017
November 2017 - West Virginia Juried Exhibition - "Seahorse" - 9 x 4 x 3 - Australian York Gum Burl - it rests on a steel stand custom built for the spoon by Mark Nantz. It was one of 8 Merit Award winners in the 2017 West Virginia Juried Exhibition - Merit Award of $500. This is the 20th time that West Virginia has held this biannual art/craft competition and the first time the show has been held at the Art Museum of West Virginia University in Morgantown, WV. - November 12, 2017 to February 11, 2018. Merit Award winning work is returned to artists after the show but the larger awards, Governor's Awards and Awards of Excellence are purchase awards. In this way the State of West Virginia has slowly accumulated a wonderful collection of art and craft for the State Museum. The show is beautifully displayed. I encourage anyone visiting Morgantown to allow time to see this fine show.
October 2017 -
The Emil Milan Research Project has documented the life and work of noted but nearly forgotten carver and sculptor, Emil Milan. (1922-1985) I was interested in knowing more about Milan because he taught my first teacher, Phil Jurus. Even though I never met him his influence is large in my work. We initially worked from a grant awarded by the Center for Craft Creativity and Design in 2009. That led to two exhibitions of Milan's work and the woodworkers who had been influenced by his teaching and work. A symposium putting Milan's career in the context of Midcentury Modern American woodwork was held and that was followed by the opportunity to develop a book.
Over the past 2 years our writer, Craig Edelbrock, has written that book and we want to share more information about it. The book has a website: https://www.emilmilan.org


By reading various parts of this site you will better understand the design and the content of Emil Milan: Midcentury Master.
A Kickstarter Campaign to pay for the printing of the book has begun ( Oct. 17 through Nov. 15). Dan Saal who has designed our book and who also conceived this path to publishing and printing has led this phase of the project.


For Kickstarter, please visit: http://kck.st/2xL86la


In case you or someone you know is active on social media Emil Milan: Mid Century Master is there as well.
https://www.facebook.com/ emilan.project
https://www.instagram.com/ emilan_project
https://www.facebook.com/groups/117651982262103
Share on Twitter: http://bit.ly/2hRWOWh

We appreciate all those who have helped us throughout the 10 years of research that has led to this book. Your continued support would be greatly appreciated. If you know of others who may be interested in Emil Milan, please pass this on.

Speaking for the entire Emil Milan Research Project team, thank you to all that pledged toward the Emil Milan book on Kickstarter. Your show of support helped us get funded in less than 48 hours.

But we've only just begun. While the funding guarantees that those of you who purchased the book will get your copies, we want to spread Milan's story to a larger audience. Please share the Kickstarter with all of your friends.

You can be the catalyst that helps Milan's story inspire further generations of artists, curators, collectors, and enthusiasts. Every dollar we raise is critical to ensure the book is distributed to the largest audience possible.

There are only about 90 of the limited edition books left so be sure to share with your friends who might love to own one.

Thank you again for your amazing support of this project.

June 2017 - The Moss Arts Center at Virginia Tech in Blacksburg, VA invited me to contribute to From These Woods, a regional show of wood art on exhibit from June 8th to September 1. Nine of my spoons will be shown, four borrowed from my wife's collection and five from the collection of Fleur Bresler. Additional information about From These Woods can be found here.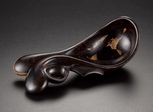 March 2017 - I recently learned I will be given an Award for Excellence in the Traditional Arts by Common Ground on the Hill. This wonderful midsummer program takes place on the campus of McDaniel College in Westminster, MD. I graduated from there in 1969 and taught spoon carving in this program for 5 years. The founding idea of Common Ground is that all the problems we face, racism, sexism, ageism, income inequality, whatever, can be improved by sharing experiences in the arts. Common Ground provides a context for those experiences each summer for two weeks ending in a festival. I encourage all to attend. More info here.
January 2017 - Norman Stevens, author of A Gathering of Spoons, is one of my two longest standing customers dating back to the early 1980's. He is a long time friend of the wood field especially spoon carvers. Recently he donated part of his vast collection to the Peabody Essex Museum in Salem, MA. Among those items were a pear wood spoon of mine entitled, Spoon with Three Piercings (2004), and a letter opener carved from Mountain Mahogany.
2016
December 2016 - I have been collaborating with Romanian chip carver, Zina Burloiu, over the past two years. First at the 2014 Echo Lake Collaborative at Buck's County Community College north of Philadelphia. Our recent work included five letter openers. I shaped the openers with my choice of wood and form purposely preparing areas for Zina's amazing detail carving. Here are five recent examples of our work. If you are not familiar with Zina's wonderful work do a Google Image search and enjoy.
We hope to do more including a few spoons in 2017.
November 3 – 6, 2016
Orionid, a spoon of mine from 2014 (click here to view), appeared in a special Collectors of Wood Art show at SOFA Chicago, November 3 – 6 at the Navy Pier in Chicago. Purchases from that show will be handled by sponsoring galleries. There is a catalog from this show. Click here for images from the exhibit.
Why Wood? Contemporary Practice in a Timeless Material
The practice of woodworking spans millennia of artistic endeavors and parallels the trajectory of human achievement. Wood continues to provide inspiration to emerging generations of makers across a spectrum of creative practices. And yet, as concern for the sustainability and conservation of our treasured natural resources intensifies, artists continue to explore the properties of this rarefying substance. Through contemporary works that push the boundaries of the material and mine its properties for inspiration, we encounter the eternal qualities of wood that perpetuate dialogues between makers and material.
Featuring a wide range of contemporary art and design by artists currently working with wood, this special exhibit was conceived and will be executed by Collectors of Wood Art, a non-profit organization committed to the development and appreciation of studio wood art (including turned objects, sculpture, and furniture) among collectors, artists, educators, art critics, galleries, museums, and the general public. CWA focuses on: helping people fully appreciate/participate in the field; increasing awareness/acceptance of wood as a special medium for artistic expression; supporting scholarship in the field; and encouraging and recognizing creativity of artists using the medium.
For additional information: http://www.sofaexpo.com/2016/special-exhibits
March 10, 2016 - On the occasion of the 50th Anniversary of the National Endowment for the Arts, the West Virginia Division of Culture and History honored 50 individuals and 50 organizations whose work exemplified the importance of art in West Virginia. Artists, Craftspeople, Dancers, Authors, Actors, Writers, Musicians, and more were honored. Diane and I attended this event in Charleston where Governor Earl Ray Tomblin presented each honoree with an etched glass medallion to indicate their recognition. It was a wonderful reminder of the rich variety of great work being done in the arts in our state.
2015
2014
2013
2012
September 2012 - "Homage" is donated to the Yale Art Gallery – My thanks to Ken Spitzbard for his willingness to give this piece to Yale.
September 2012 - "Conquistador" is purchased by the Renwick Gallery, Smithsonian American Art Museum thanks to generous donations by Fleur S. Bresler, S. Bruce and Eleanor Heister, Patricia A. McCauley, James L. Pavitt and Carolyn K. Stettner, and Kenneth Spitzbard. This spoon was chosen by Nicholas Bell, The Bresler Curator of American Craft & Decorative Art at the Renwick Gallery during the 2012 Smithsonian Craft Show.
Late September 2012 - Attended the 2012 CWA Forum in Little Rock, Arkansas. Visited the Arkansas Arts Center and the Clinton Library. Spent a day at Robyn & John Horn's taking in their collection and participating in a 3 hour sale along with over 20 other artists. On Sunday we visited Crystal Bridges Museum of American Art in Bentonville, AR. The architecture of this brand new museum is as much an attraction as the art it contains. It was a wonderful event shared with like minded collectors and artists.
October 2012 – Two of my spoons, Madagascar Rosewood Spoon and Cocus Spoon, were donated by Robyn and John Horn to the Columbus Museum in Columbus, Georgia.
Collectors of Wood Art Forum 2012 Little Rock, AR More than 60 member artists and collectors will return to the site of the founding event for the Collectors of Wood Art to enjoy a day at the home of John & Robyn Horn. In addition there will be visits to the Arkansas Art Center and the Clinton Library ( White House Craft Collection). Artists will show work during the weekend. Details here.
May 21 to June 10 – Poplar Culture – The Wharton Esherick Museum is sponsoring this fundraiser featuring 50 works of art made from a tulip poplar tree that grew next to Esherick's studio. I have three spoons in this exhibition, all of which were inspired by Esherick sculptures and all made from that tree – the spoons may be viewed here. Additional information may be viewed here or from this website.
April, 2012 – In early April, my wife, Diane and I visited our son, Andrew, in Japan for two weeks. He teaches high school English there. We saw many wonderful temples and shrines, some hundreds of years old. We also saw ancient Buddhist and Shinto wood sculpture that was as expressive and beautifully done as a Michelangelo stone carving. Trees in Japan are groomed and shaped much in the manner of Bonsai and are living sculptures. We also saw antique Japanese boxes, utensils for tea ceremony (bamboo), and even had the opportunity of buy a small sample of two beautiful woods for my work. Time will tell whether or not this visit will influence my own carving but we took a lot of photos of trees and wood objects for future inspiration. Everyone we met there was kind and generous far beyond our expectation.
April, 2012 – My work received the Silver Award (effectively 3rd place behind Best in Show and the Gold Award) at the recent Smithsonian Craft Show. This was for the body of work presented rather than a single piece. The Awards judges were Nicholas Bell, Renwick Gallery Curator of Craft & Decorative Art, Dr. Oscar Fitzgerald, Professor, Smithsonian/George Mason University for Masters in the History of Decorative Arts, and Carol Sauvion, Executive Director of Craft in America on PBS. My thanks go to Lois and Richard England for donating funds for this award. For photo click here.
April, 2012 – American Woodworker magazine # 160, June/July 2012, has an article about my work in their regular feature "A Great American Woodworker". Thanks to author Spike Carlsen for considering me and to Senior Editor, Tim Johnson, for working with me to improve the entire presentation. A pdf of the article can be viewed here.
February 1, 2012 - Ron and Kay Springwater have donated 44 of my letter openers to the Racine Museum of Art. Each carved from a different wood, this collection covers the evolution of handle and blade forms from 1993 to 2011. It represents well over half of the letter openers they have purchased during the that time. I am very grateful to the Springwaters for their consistent support and friendship. These are the first letter openers of mine in any public collection. Click here to see images of some of the donated collection.
2011
2010
November – During the SOFA Chicago Show the Collectors of Wood Art held a special exhibition called "Is Ornament a Crime". This show was curated by Cindi Strauss, then the decorative arts curator of the Museum of Fine Arts, Houston. The challenge to artists was to not embellish surfaces with color, texturing, burning, etc. Instead she wanted a return to more pure form and line on natural wood surfaces. My work "Homage" was biographical and expressed the debt I owe PA/NJ craft artist Emil Milan (1922-1985) Milan taught my first teachers and even though I never met him I believe my work has been greatly influenced by his style of work and tool use. This work was carved using a piece of Cocobolo discarded and recovered from Milan's derelict barn studio near Thompson, PA. There was a catalog published documenting the show. Click here to see Homage and here to see the catalog cover.

November 5 – 7 - del Mano Gallery's exhibition at 2010 SOFA Chicago, . del Mano is the leading gallery in the US focusing on wood art. Click here to see the spoons included in this exhibition.

September 24, 2010 – The long awaited exhibition A Revolution in Wood: the Bresler Collection will open at the Renwick Gallery, Smithsonian American Art Museum in Washington, DC. In addition there is a book with the same title published by the Smithsonian which includes images of the 66 works of Wood Art donated by the Breslers to the Renwick. I have several spoons in this exhibition and book. http://americanart.si.edu/exhibitions/archive/2010/bresler/ This show will travel to several museums in the United States starting in 2012. Click here and scroll down to see my spoons in the collection. On the opening day of this show I will be a panelist for a roundtable discussion of the Bresler's collection. Curator Nicholas Bell, collector Fleur Bresler, and wood artists Michelle Holzapfel and Mark Lindquist will also be on the panel.

July 31, 2010 – Diane and I visited Steve Keeble and Karen Depew in Chevy Chase, MD where they invited local fans of wood art to a couple hours of conversation about spoon carving and collecting. You can see some images of this event at: http://cwasplinters.blogspot.com/2010/08/norm-sartorius-visits-dc-cwa.html

June 2010 – the small book A Gathering of Spoons, Selections from the Collection of Norman Stevens, becomes available from the AAW Gallery of Wood Art, http://www.galleryofwoodart.org , you may view the book here.

June 2010 – I spent a wonderful day researching the exhibit history of Emil Milan at the Newark Museum of Art in the 1950's and 1960s. He was the leading seller of craft over this period of time at the museum's annual Christmas crafts show.

June 2010 – I attended one day of the AAW Symposium in Hartford, CT primarily supporting Norman Steven's spoon exhibit there. I was there long enough to understand that these are wonderful events and I should make an effort to attend future symposia where possible.

May 2010 - I have 3 pages of text and photos in the new book Wood Art Today 2 by Jeffery Snyder, from Schiffer Publishing. This is an opulent coffee table book profiling the work of many of today's leading wood artists. Click here to view the cover and my contribution.

I have 3 spoons in the show Contemporary Wood Art: Collectors' Selections presently on exhibit at the Wood Turning Center in Philadelphia, PA. Two are from the permanent collection of the WTC and one is for sale (Twig Spoon, 2007, Available Work) - this show will close on March 20, 2010. Click here for more information.

I have one spoon in the new exhibition A Gathering of Spoons at the Gallery of Wood Art operated by the AAW in St. Paul, MN - - this same exhibition will be part of the Annual AAW Symposium in Harford, CT in June. There will also be a small book/catalog available in Hartford to accompany this exhibit. Both of these shows reveal part of collector, Norman Stevens, vast collection of 9 inch wooded spoons from in excess of 175 makers around the globe.
2009
2008
December 5, 2008 - February 13, 2009, In the Palm of Your Hand. I have 5 spoons in this show at the Messler Gallery which is part of the Center for Furniture Craftsmanship in Rockport, Maine. Click here to see these spoons.
November 2008 – Thanks to the generosity of longtime collector and friend, Pat McCauley, three of my spoons were acquired by the Philadelphia Museum of Art.
October 3, 2008 – January 17, 2009, dysFUNctional, Wood Turning Center, Philadelphia, PA. I have one spoon in this show called "Old & in the Way". There is a book of the show. The entire show will tour for 3 years after it closes at the Wood Turning Center. You can see much more about the show at www.woodturningcenter.org. To see "Old & in the Way", click here.
Early August – I attended the Emma International Collaborative for the second time – it was a fantastic week of work outside my usual parameters shared with 100 wonderful artists from North America, Australia, and New Zealand – pieces I worked on appear in both the Archives and Available work sections. To see these pieces click here.
Summer 2008 – An article about my work is featured in the Summer 2008 issue of The Hill, the alumni magazine of McDaniel College. It largely repeats Terry Martin's article from Woodwork June 2006 with some new photos and text. See the Biography for the full article.
March 22 - July 20 - Masters of Design - Mint Museum of Craft and Design - My work entitled "Sperm Spoons" is a part of this exhibition. http://www.mintmuseum.org
January – Attended CWA Forum in Scottsdale, AZ and exhibited 5 spoons in the del Mano Gallery display.
January –

The Art of Wood Jewelry

, Lark Books, is published. One of my bracelets is featured on the book jacket and I have a how-to article inside about the making of one design along with a couple more photos.
2007
Gregg Museum of Art & Design, North Carolina State University, Raleigh, NC, January 2007, three spoons donated to the permanent collection by Robyn and John Horn.
Woodwork Magazine, Issue 104, April 2007, Page 18, Craft in America article, "Bee the Spoon" photograph.
Turned Wood Small Treasures, Del Mano Gallery, March 17 through April 14, 2007, three spoons exhibited.
American Craft Show in Baltimore, February 2007.
"Bee the Spoon", Craft in America touring exhibition, Little Rock, Arkansas, Portland, Oregon and San Diego, California, 2007.
Michael Hosaluk: Containment Exhibition, Mendel Art Gallery, Saskatoon, Saskatchewan, Canada, January 19 through April 2, 2007 - The exhibition was based on Michael Hosaluk providing a basic small wooden chair frame to 20 artists to change, enhance, adapt in any manner they wished. My chair sculpture reflected a health issue that became the dominant event in my life at the end of 2006.
Regional 07, Parkersburg Art Center, May 6 through July 1, 2007, "Emma Perfect" from Emma Lake 2006 and a sculpture, "Spoon Dreams II" were exhibited. "Spoon Dreams II", Second Place Award in the 3D category.
Bethesda Public Library, Bethesda, MD, May 1 to June 3, 2007, a spoon exhibited from the collection of Arthur and Jane Mason.
American Craft Exposition – August 2007
American Craft Exposition, 2007 – Award of Excellence.
WV Juried Exhibition 2007, "Spoon Dreams II" and "Pan's Mandrake".
Merit Award for "Pan's Mandrake" owned by Karen Depew and Steve Keeble.
Parkersburg News and Sentinel, September 2, 2007, Article "Art Bias" – Photo with "Spoon Dreams II".
Philadelphia Museum of Art Craft Show – November, 2007.
Washington Craft Show – December 2007.
Nominated to the Board of Directors of the Collectors of Wood Art.