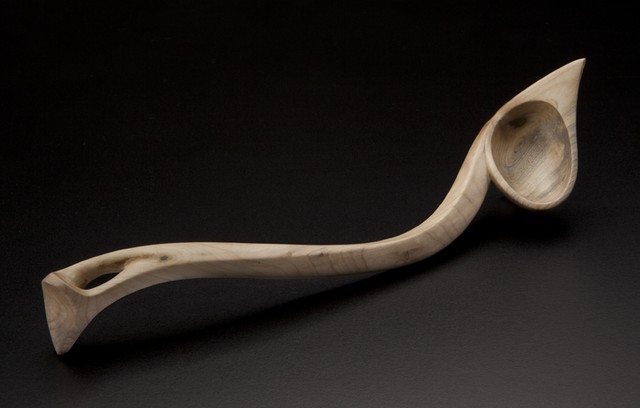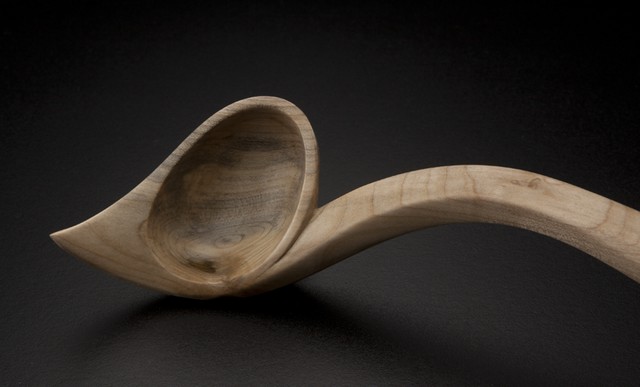 Spring Beauty Spoon – Detail

Detail from photo of Esherick's sculpture, Spring Beauty.
The Wharton Esherick Museum presented Poplar Culture: the Celebration of a Tree, May 21-June 10, 2012 at Historic Yellow Springs. The show featured the work of more than 40 contemporary woodworkers honoring Wharton Esherick with pieces crafted from a single tulip poplar tree that stood outside Esherick's studio door. I was given 3 small limbs from this poplar tree. Looking at photographs of Wharton Esherick's sculptures shown in Wharton Esherick, The Journey of a Creative Mind by Mansfield Bascom, I found three sculptures that suggested spoon forms. Each spoon's design was an interaction of Wharton's vision with my fixation on spoons. Added information may be found here.

Spring Beauty Spoon – Tulip Poplar - 10 x 2 x 2 - Spring Beauty is a small Esherick sculpture that depicts a very pregnant woman walking but within that vision lay the ideas for the form of this spoon - $1200. Photography by Jim Osborn.

This spoon was part of the 2015 Instructor Exhibition at Arrowmont School of Arts & Crafts.